Arugula is the salad herb, also known as Roquette. It adds a tangy flavor to salad and fruit dishes. The peppery taste of Arugula complements Mediterranean Foods. Olive oil and Vinegar based dressings bring this taste out well. We also suggest stirring Arugula into melted butter and serve with seafood and pasta. Arugula is delicious in salad Nicoise.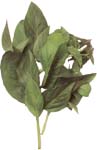 Basil is the Italian herb. It is the main ingredient in Pesto, and can be used in almost any Italian dish. Basil is great sprinkled over roasted meats and poultry, or when added to soups and stews. Add to melted butter for grilled or broiled sole. Always use in minestrone, and other hardy soups. Basil can be sprinkled over meats and poultry before they are roasted for added flavor. Store at 50º, do not refrigerate.
Opal Basil can be used just like sweet green basil, having a slight nutty flavor added to the traditional flavor of basil. Try in tomato sauce with garlic and peppers, or sprinkle over baked or barbequed fish just before serving for a tasty visual contrast. Opal Basil is also great with eggs and chicken. Store at 50º, do not refrigerate.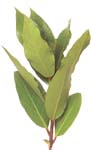 Bay Leaves, Greek bay laurel (Laurus Nobilis) the Olympic herb, greatly enhance soups, stews and bouillabaisse. We suggest using as an aromatic garnish as well. Create a "Bouquet Garni" –just tie bay leaves, thyme and parsley together for a ready-made seasoning.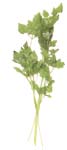 Chervil has a slight anise taste, which makes it great with fish, just finely chop and sprinkle over the cooked fish. Stirring into veal, pork, or beef dishes adds an exciding flavor. To flavor vegetables add to butter and spread or drip over cooked vegetables. We also recommend adding chervil to cheese spreads, guacamole and dips.
Chives should always be used with potatoes, but are surprisingly good on a bagel and butter or with cream cheese. By just chopping chives and adding to a cooking omelet, chives add a surprising fresh taste. Chives can also be sprinkled over salad, broth and vegetable soup. Combined with parsley and tarragon chives create a great chicken flavoring.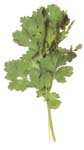 Cilantro is used extensively in Mexican and Oriental dishes. It is a must for salsa. Mixing with lemon and serving over a fish dish offers a great taste twist, or add by its self to fish veracruz.

Dill is a must for all seafood dishes, it is surprisingly good on poultry and fresh vegetables as well, especially cucumbers. Dill is very good with most soft cheeses and even plain yogurt. As with chives dill is an easy way to make an omelette great.
Lemon Grass is a staple of Thai cooking. It makes a great tea and adds a twist to salad dressing. We suggest garnishing ice cream with Lemon Grass.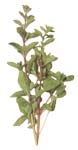 Marjoram is used extensively in Italian dishes, especially red sauces. It adds some great flavor to meats and poultry and is also good in dips and cheese spreads. For the more adventurous try adding Marjoram to pâté or puréed mushroom recipies.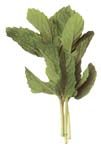 Mint is a very easy herb to use. It is good with many sweet dishes. Try using mint to garnish mellon balls, or cook with carrots, green beans and peas. Mint can be steeped into tea or hot chocolate. Almost any dissert is complimented in someway by mint, from chocolate cake to vanilla gelato. Mint also complements Lamb very well.
Oregano is used in another great Italian cooking herb, as well as a contributor to great Spanish red sauces. It can be used in most tomato-based dishes, especially soups; specifically oregano is excellent in minestrone soup. Oregano adds excellent flavor to bean and potato dishes, not to mention pizza sauce.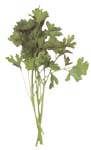 Italian Parsley should not be confused with the average garnish parsley. Our Italian Parsley actually has some flavor. Try it with chopped shallot and grated lemon on fish or veal. Italian Parsley is great with soups and casseroles, not to mention a great addition to salads with oil and vinegar based dressings. Italian Parsley can, with some creativity, even be used as a garnish.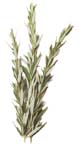 Rosemary is an excellent complement for meats, especially lamb. We also suggest using it in beef and poultry; rosemary chicken is an easy tasty dish. Stir rosemary into sauces, and add to quiche and eggs. For great rosemary flavored barbeque, sprinkle rosemary over coals just before cooking meat. A butter rosemary sauce over fish, for example halibut, is a real treat. Rosemary is definitely one of the easy and most versatile herbs to use.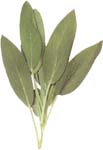 Sage is a necessity for all stuffing. It is great in chicken, duck, turkey and lamb. It is the Thanks Giving Day herb. It is also great in pork sausage, or with sharp cheese spreads.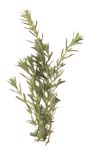 Savory is excellent in soups, excellent with meat and poultry, and a must for bean and lentil dishes. It can be used as a slat substitute. Savory is very good in salads with oil and vinegar based dressings, as well as other vegetables and greens.
Sorrel's sharp flavor makes it a great ingredient in sauces for lamb and turkey. Sorrel is great in omelets and soups, try cream of sorrel and spinach soup. The sharp flavor makes it an ideal green for salads. Sorrel is a great complement to seafood, it is excellent with salmon and makes a fun tenderizer wrap for scallops. Also try stirring into creamed spinach, adding to spinach quiche, soup or soufflé.
Tarragon is the French herb. It is therefore a must for Béarnaise sauce. It complements seafood, poultry and egg dishes. Tarragon is fabulous in salad dressings, especially mustard sauces.
Thyme is traditionally used in Creole dishes. It is great in stews, casseroles, stuffing and rice dishes. Thyme is great sprinkled over meats or added to omelets. Use time when roasting meats or with glazed carrots and other vegetable dishes.
Lemon Thyme has a mild lemon flavor and aroma added to the traditional flavor of thyme. Lemon Thyme can be used as a substitute in all thyme recipes. It can also be sprinkled over fresh fruit or over vegetables. Lemon Thyme gives fish and chicken a great lemon scent.